Sa. 02.03. & So. 03.03.2019: Workshop Performing #MySelfie, RRRIOT Festival, Wien, A
Für Mädchen* und junge Frauen* ab 15 Jahren.
Das perfekt inszenierte Selbst ist heute das A und O. Eigentlich performen wir ständig, ohne dass wir es gleich (Performance)Kunst nennen. In der Schule, im Job, beim Sport, … Welchen Einfluss hat Social Media? Bist das du? Im Workshop schauen wir uns an, wie und warum man sich selbst inszenieren kann und wie es dabei um die Privatsphäre steht. Wir erkunden mit Tanz und Bewegung die Gesten aus der Pop- und Insta-Kultur. Wir machen uns zu unserer eigenen Influencerin und experimentieren mit Aussagen, Fotos und Posen – von der Kopie bis hin zu deinem Original. Bring dein Handy mit!
18.&19.1.2019
#likemetoo bei den Open Media Awards, Ars Electronica Center, Linz
22.12.2018 - 21:00 h Fearleaders Vienna #YOLOforever, WUK performing arts, Vienna
Moderation: Nora Jacobs; Guests: Kids'n'Cats, INFLUENCA, Databar, Hashtagprinter

09.11.2018, 21:30h binge-dating, p.m.k., Innsbruck, AT
Zan Lyons & Lissie Rettenwander live in concert
Barbis Ruder presents: Binge-Dating


Photo: Tobias Pilz

03.11.2018, 22:30h, DU (aber eigentlich geht es um mich), IETM Festival, Reaktorhalle / München, DE
Barbis Ruder mit Stefanie Sourial und Veza Fernandez

Foto: Helmut Prochart, Collage: Barbis Ruder, Video: Ewa Stern
29.09.2018 #likemetoo, Stadt der Frauen, Altes Rathaus, Schickardt-Halle, Esslingen, DE

05.-22.09.2018 nothing less, VBKÖ, Wien, AT
Group Show on 100 years of woman's suffrage curated by Aline Lara Rezende and Julia Hartmann (SALOON Wien)
Participating Artists: Bernadette Anzengruber, Amanda Gutierrez, Marlene Haring, Zofia Holubowska, Christa Joo Hyun d'Angelo, Lena Rosa Händle, Jorun Jonasson, Annja Krautgasser, Marte Kiessling, Nadine Lemke, Mika Marujama, Marina Markovic, Barbis Ruder, Käthe Schönle, Stefanie Seibold, Ekaterina Shapiro-Obermair, Starsky, Alexandra Tatar, Aiko Tezuka Kurosaki, Danielle Pamp, Petra Paul, Faith Wilding, and Hui Ye.

Still: Thigh Gap; Cinematography: elet
04.05.2018 & 05.05.2018 CHANNELING #likemetoo, DONAUFESTIVAL, Krems, AT

Press #likemetoo:
FM4 Story zum Projekt
Barbis Ruder & ihre Influencer Performance / Interview Deutschlandfunk // Listen @ ARD Mediathek
21.04.2018 INFLUENCA Appearances at URBAN BLOOM, Wien, Ottakring, AT
28.03.2018 INFLUENCA Pop-Up shop, K48, Wien, AT


Foto: Oliver Hangl
16.03.2018 19:00h INFLUENCA POP-UP SHOP, K48, Wien, AT

09.03.2018 18:00h TALK "Befreit euch von der Genitalpanik! Günter Brus und das soziale Geschlecht", Belvedere21, Wien, AT
Julia Hartmann im Gespräch mit Noit Banai, Pilar Parcerisas, Aline Lara Rezende und Barbis Ruder

01.03.2018 19:00h INFLUENCA BIRTH RITUAL, Samstag Shop, Wien, AT

27.11.2017 - 2.2.2018 Ausstellung zum Kardinal König Kunstpreis, St. Virgil, Salzburg, AT
6.1.2018 Mundstücke v2 at RESONANZEN. 40 Jahre Kunststiftung Baden-Württemberg, ZKM, Karlsruhe, DE

30. November 2017 BARBIS IN BABELAND, BONE Festival 20, Bern, CH


Foto: Remy Erismann
27. Oktober 2017 20 Uhr, Mundstücke v2 Performance zur Eröffnung


Foto: Helmut Prochart
27. Oktober 2017 - 24. November 2017, MAXIMALE WECHSELWERTE, Kunstraum34, Stuttgart, DE

8. September 2017 19 Uhr Performance MUNDSTÜCKE v2
9. September 2017 - 22. Oktober 2017 Antipoden zum Zurzacher Dirnentanz: Lilli Hill & Barbis Ruder, Galerie Mauritiushof, Bad Zurzach, CH
kuratiert von Laura Wurster

7. September 2017 18 Uhr Performance MUNDSTÜCKE v2
8. September 2017 - 13. Jänner 2018 ba ? b+a | 10 Jahre MUSA. Aus der Sammlung der Stadt Wien, MUSA, Wien
kuratiert von Franz Thalmair
mit a room of one's own, Maria Anwander / Ruben Aubrecht, Anna Artaker, Miriam Bajtala, Blackpages (Christoph Meier / Ute Müller / Nick Oberthaler), Kirsten Borchert, Johanna Braun, Dejan Dukic, Sophie Dvo?ák, Christian Eisenberger, VALIE EXPORT, Fabian Fink, Peter Fritzenwallner, Nikolaus Gansterer, Elisabeth Grübl, Daniel Hafner, Harpune Verlag (Sarah Bogner / Josef Zekoff), Lone Haugaard Madsen, Kathi Hofer, Bernhard Hosa, Luisa Kasalicky, Birgit Knoechl, Ulrike Königshofer, Sonia Leimer, Lotte Lyon, Joseph Marsteurer, Christoph Meier, Edith Payer, Wendelin Pressl, Arnold Reinthaler, Barbis Ruder, Markus Schinwald, Susanne Schuda, Margret Weber-Unger, Anita Witek


Wertschöpfungskette 1D - Attacke, 2014, Video, 1:08 min, Foto/Still: Ewa Stern
29. September 2017 15 Uhr, ART WORK OUT - vermessen, Festival heisser Asphalt, Augustinplatz, Wien
kuratiert von Oliver Hangl

24. September 2017 11 Uhr, 13 Uhr, 15 Uhr KURTRAM zum Sanatorium Sonnenland, WIENWOCHE, Urban-Loritz-Platz, Wien
Ersatztermin bei Schlechtwetter: 30. September, 11:00 - 18:00 Uhr
Konzept/Leitung: Bastian Petz & Johannes Lernpreiss, Regie Kurtram: Barbis Ruder, PerformerInnen: Vanja Fuchs, Sebastiano Sing
23. September 2017 BARBIS IN BABELAND, Pelzverkehr Festival, TheaterHalle11, Klagenfurt


Foto: Suchart Wannaset
20. August 2017 binge-dating, PPP Progr Performance Platform, Bern, CH

23.-25. Juni DU (aber eigentlich geht es um mich), WUK performing arts, Wien
mit Barbis Ruder mit Stefanie Sourial und Veza Fernandez

Foto: Helmut Prochart, Collage: Barbis Ruder, Video: Ewa Stern
5.-6. Mai Graz Guerillawalks: Oliver Hangl feat. Barbis Ruder, Kunsthaus Graz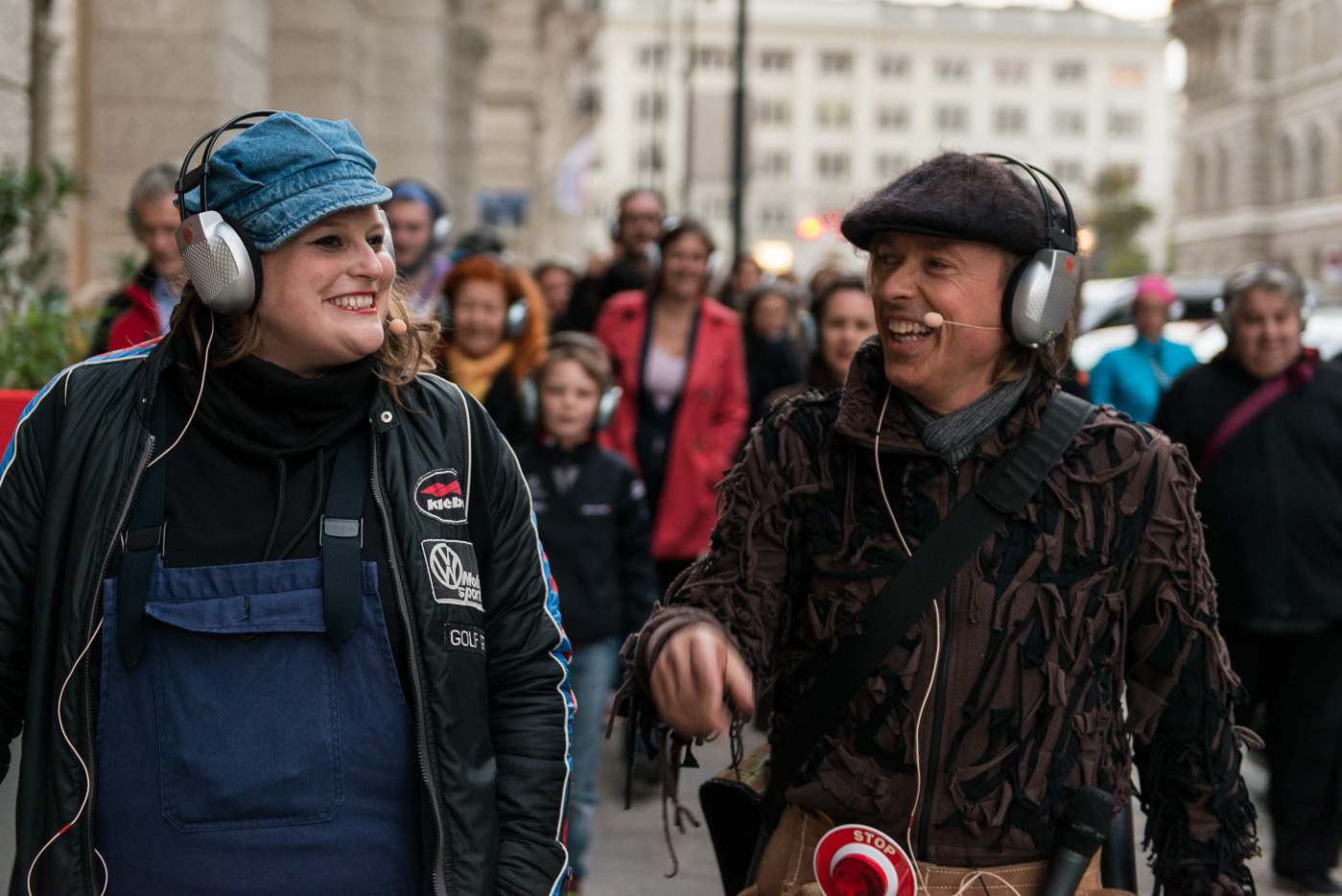 Foto: Helmut Prochart
8. April BARBIS IN BABELAND, 17.Salzburger Performancetage Kontraste, die lange Nacht der Performance with tanz company gervasi, Barbis Ruder, Michael Turinsky, Sööt/Zeyringer und SEADs Bodhi Project, ARGEkultur, Salzburg

16. März - 29. April elastic collisions Kunsthalle Exnergasse, Wien
mit Stefan Alber, Alexandra Baumgartner, Ulu Braun, Janine Eggert und Philipp Ricklefs, Peter Fritzenwallner, Ingo Gerken, Stef Heidhues, Thomas Hörl, John Isaacs , Sibylle Jazra, Marte Kiessling, Bjørn Melhus, Thomas und Renée Rapedius, Alona Rodeh, Christoph Rothmeier, Barbis Ruder, Christopher Sage, Sebastiano Sing, Sööt/Zeyringer, Julischka Stengele, Tommy Støckel

10. März - 15. Mai Pro(s)thesis, Gemaeldegalerie, Akademie der bildenden Kuenste Wien
mit Kerstin von Gabain, Anne Imhof, Birgit Jürgenssen, Barbis Ruder, Toni Schmale, Anne Schneider

24. Februar TALK Subotron arcademy: Alternative Realities in the performing arts, Wien
19. Jänner - 22. April Matter and Lightness, Kunstraum Niederoesterreich, Wien
mit Thomas Albdorf, Stefan Arztmann, Diana Barbosa Gil, Fritz Biedermann, Ida Bö, Karolin Brägger, Katrina Daschner, Hermanus Hendrick de Jongh, Romana Egartner, Tobias Ehrhardt, Živa Drvari?, Christian Eisenberger, Samuel Ekeh, Bob Erpelding, Max Frey, Peter Fritzenwallner, Florinda Fürst, Nikolaus Gansterer, Martin Grandtits, Xaver Gschnitzer, Flora Hauser, Valentin Hessler, Thomas Hitchcock, Clemens Hubinger, Thekla Kaischauri, Alexander Kasses, Lukas Maria Kaufmann, Sebastian Köck, Magdalena Forster, Oliver Kowacz, Brigitte Kowanz, Peter Kozek, Krüger & Pardeller, Gašper Kunši?, Suzie Léger, Wolfgang Lehrner, Paul Leitner, Alfred Lenz, Ernst Logar, Constantin Luser, Alexander Martinz, Lukas Matuschek, Martina Menegon, Milan Mladenovic, Julie Monaco, Leo Münch, Wolfgang Obermair, Niki Passath, Tobias Pilz, Leonard Prochazka, Ulla Rauter, Marie Reichel, Barbis Ruder, Martin Schlögl, Björn Segschneider, Darja Shatalova, Marianne Stalhös, Sarah Steiner, Lisa Truttmann, Alireza Toghiyani, Anna Vasof, André Wagner, Marit Wolters, Suchart Wannaset, Anna Zilahi, Anna Zwingl, Tomasz Vollmann, Kollektiv perlimpinpin, monotron 4-5- plus, Astrid Sodomka & Tabitha Dattinger & Pamina Plauder, Loretta Fahrenholz, Clara Agnelli
13.-15. Jänner Krautzungen: Rituale im Kopfgarten, Westwerk, Hamburg